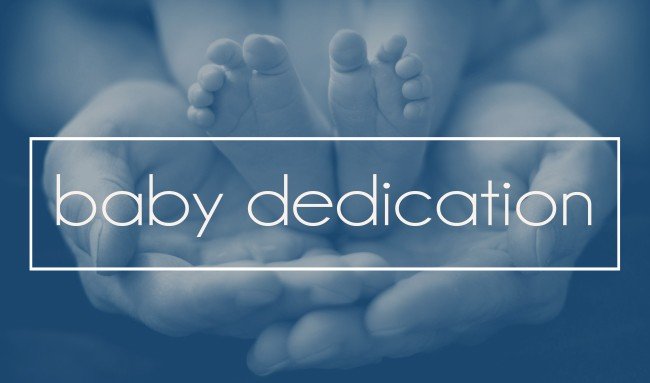 Why do we dedicate babies?  We, as Christians, have a tremendous responsibility given to us when the Lord blesses us with a child.  By doing so, He entrusts us with the responsibility of raising that child in the way of the Lord and establishing early in his or her life, a foundation built upon Jesus Christ.  It is a wonderful opportunity to make a public declaration that you will raise your child in a loving Christian home.
What exactly is involved in "dedicating" your child to the Lord?  Scripture tells us that children are a heritage from the Lord. He gives them to us to bless us, and because of this, we must be willing to give them back to Him.  We too must be willing to totally submit our children to the will of our Father.  A perfect example of "dedicating" a child to the Lord is given to us in Samuel 1:11 Hannah, being barren (or without child) for many years, was weeping before the God. "And she made a vow, saying, Lord Almighty, if you will only look upon your servant's misery and remember me, and not forget your servant but give her a son, then I will GIVE HIM TO THE LORD ALL THE DAYS OF HIS LIFE…"
Please read:  Communication regarding baby dedication arrangements must be made with the parent or legal guardian presenting the child or children. Please be aware that only a couple committed to Christ and married, or a single parent committed to Christ can participate in a baby/child dedication.